Could American intelligence have picked up pieces of information suggesting the fate that befell the Ethiopian airliner that crashed within minutes of take-off from the Bole International Airport in Addis Ababa Sunday morning? This is the question over which tongues are waging in some quarters. Those speculating along this line think it might not be all coincidence for the US Embassy in Addis to be so specific in its March 8th, 2019 security alert to embassy personnel in the country if it had no such intelligence.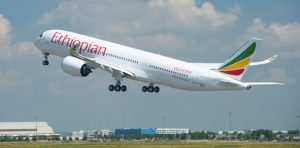 The advisory not only mentioned specific points to be avoided but also ruled out Americans arriving or departing from the Bole International Airport on Sunday, March 10th, 2019. The language use suggests some information about something in the offing. That is something like pockets of a resistance movement, for example, planning such an operation and whose preparations the Americans might have picked up in Africa's diplomatic hub? That is pockets of rebels in spite of the Ethiopian Prime Minister's efforts at calming the country.
While the ability of American intelligence in Addis to pick the drop of a pin anywhere in the country showcases its status in the game, it also provokes the question of whether the bits were sufficient to have helped prevent what happened.
So far, it is silence from almost every quarter on what might have brought down the plane. Could that be a strategy of denying evil doers the oxygen they need in publicity?  35 countries are said to have lost citizens in the crash of that flight, with Nigeria losing two irreplaceable gems. What is not clear is how, in spite of the alert, there were Americans and Britons on the flight.
CNN has quoted Tewolde GebreMariam, the CEO of Ethiopian Airlines as saying there is no cause that they could attribute the crash of "a brand new airplane with no technical remarks, flown by a senior pilot" as yet. All the three elements in that statement rules out too many possibilities although CNN's Richard Quest is drawing attention to how the same plane type has had similar experience of falling from the sky elsewhere. But, even then, that does not rule out the chance that, this time, it could have been brought down by some actors.