Call it crisis, stalemate, instability, authoritarian breakdown! It doesn't help anybody. In a crisis situation, everyone is vulnerable. The observable hunger for calming home truth, reflexivity, critical distance between self and society and, in short, critical perspectives that can create sharper understanding of the State of the Nation must, therefore, be understandable, particularly with little or no hope of the two leading presidential candidates raising the banner any higher than humming about corruption, job creation, security and such other manifestations rather than the real trouble of Nigeria. As someone put it recently, Nigeria's current crisis is nothing but a case of where capitalism has gone extractivist, criminal and violent beyond anybody's control.
Miraculously, none of the two presidential candidates is articulating any holistic programme of how to make Nigerian capitalism work. That is what the Eurasia Group profiling of the two candidates demonstrated, irrespective of one's sentiments about the risk professionals.
Instead of that, they are:
Guaranteeing security without anybody critically situating the word security in the current situation
Fighting corruption without saying anything on when is it corruption vis-à-vis the decision to fight it with insecticide or deodorant
Endlessly talking about making Nigeria work again as if Nigeria means the same thing for the extremely poor and the extremely rich, for instance
Swearing to provide jobs without any framework of what took away the jobs in the first case
As nature abhors a vacuum, Intervention joins all those who are looking at but also beyond the leading politicians in terms of voices of calm, of critical distance, of alternative explanations and of radical nationalism; voices that go beyond taken-for-granted meaning of things. This is so that January 14th – February 15th, 2019 would not be one hell of promises of answers without the questions. There have been few such voices of late. It is not whether we agree or disagree with the speakers. Rather, it is about what their standpoint brings to the table towards a wider conversation on the Nigerian situation:
"Election is so close by and obviously tension will build. What is critical is for us to know that Nigeria is greater than all of us… They (politicians) will come and they will go but Nigeria will remain. We traditional rulers who are very fortunate to still be alive, we have experienced many presidents, many governors… A president cannot use more than eight years, that is in the constitution of Nigeria, so Nigeria is greater than the president whose maximum tenure is eight years… So, our message to everyone in Nigeria is that please, especially Nigerian youth, go and vote for whoever you want to vote for"
The Ooni of Ife, Oba Adeyeye Enitan Ogunwusi, addressing State House Correspondents after leading South West monarchs to the Presidential Villa, Abuja Friday
 "There are some predisposing factors that impel insecurity. These have to be understood and appreciated if the current security challenges are to be effectively dealt with. Fundamentally, sixty percent of security challenges in the country are the result of failed expectations, injustice, and insensitivity of the elites to the plight of the citizenry. These are consequences of declining quality of governance and leadership. We have found ourselves where governance and leadership is majorly about self-interest. We cannot say with all honesty that the majority of those elected to represent the people in recent years are representing the interests of the electorate. The other reason that seems to be responsible for some of the security threats is the declining sense of patriotism of elected officials at all levels. These cumulatively affect the capacity to deliver the dividends of democracy and meeting the expectations of the citizenry". 
"In effect, the result of pent-up resentment that lead to the drift into criminality and extremism is a major reason for the current security situation in the country. These also are better understood when appreciated against the backdrop of decline in the capacity and effectiveness of the security system. The plain truth is that the security architecture and organizations do not have what it takes to decisively deal with some of the current security threats"
Afakriya Gadzama in a January 5th, 2019 interview with Daily Trust
The issue is this: when this thing was going on under Jonathan, we had Borno elders always speaking. Where are the Borno elders now?…Where are the leaders of Northern Nigeria now that this problem has become endemic? What are they saying now? Are we not guilty of what we allow?…"The truth is that if we don't rise up to the endemic challenges now, sooner than later if things continue this way, we are not going to have a country. So it is our responsibility to rescue Nigeria from the clutches of insecurity. Without security; we would not have a meaningful democracy. The sad reality in Nigeria is that by our silence we have condoned those who have been unable to effectively tackle the insecurity in the nation. We have wittingly become enablers of evil"
"You know what enablers do? Enablers don't build a country, only courageous people do. What enablers do is that they instigate the worship of individuals and the office they occupy; they will confuse such an individual with accolades. You know none of us was built to receive worship, anyone who attempts to receive worship will meet destruction in his wake. So that is why we are witnessing destruction in Nigeria because we have elevated some human beings to the status of God"
Hon. Yakubu Dogara, Speaker, House of Representatives at a PDP Rally in Lafia, Nasarawa State
"But today, I can tell you with all sense of honesty, the way the government is running its affairs, Nigeria needs serious prayers because I do not see any sign that kidnappings and Boko Haram activities will stop in the nearest future"
"Nigeria is a country that has very powerful media organizations and media managers that can be given money to destroy whoever they wish, whether it will lead to the total destruction of the country or not. I can swear anytime and anywhere that there is nothing like Abacha Loot, take it from me. I can assure you that people will also read from the series of books I am going to write and which will soon be published about so many things. Take it from me and with all confidence and honesty that there was nothing like Abacha Loot"
Major Al- Mustapha, CSO to late Gene Sani Abacha in a January 5th, 2019 interview with Blueprint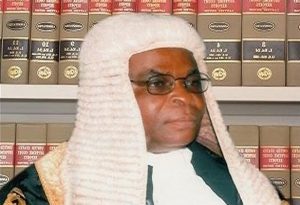 "My asset declaration form numbers SCN 00014 and SCN 00005 were declared on the same day, 14/12/2016 because I forgot to make a declaration of my assets after the expiration of my 2005 declaration in 2009. Following my appointment as acting CJN in November, 2016, the need to declare my assets anew made me to realize the mistake…"I then did the declaration to cover the period in default. I did not include my standard charted bank account in SCN 000014 because I believed they were not opened…I did not make a fresh declaration of asset after my substantive appointment as CJN because I was under the impression that my SCN 000015 was to cover that period of four years which includes my term as CJN…."
Justice Onnoghen on Justice Onnoghen