The vicious struggle for the soul of Nigeria has, fitfully, finally and formally staggered onto the streets. Now, everyone, even the blind, can see it. If it is not in the volley of well aimed verbal missiles issuing from The Presidency on all cylinders, signifying a President Muhammadu Buhari on the move for 2019, rhetorically and otherwise, then it must be in the pot-shots on the Presidency, particularly the ones fired from Kano and Kaduna. Elder statesman, Alhaji Tanko Yakassai said the president has been successful only in noise making. As one of the very few living traditional politicians with Left background, it would not be surprising if quite a number of people did not sleep in the Villa that night. He was followed by Sheikh Abubakar Mahmud Gumi saying the president is held hostage by mad people. These are considered significant statements in terms of the pattern of ruling class constellations unfolding. But the president is soldiering on nevertheless as we shall see below.
Meanwhile, disagreement within the ruling party has spilled onto the streets. Clearly, the battlefront which has opened between the Senate President and the Executive Arm is crossing the red line of power struggle by presenting Nigeria to the world as a country whose Head of the Legislature had anything to do with armed robbery. That may be good for some people but it stretches the image of the country too thin. To undo that dent now would take years and lots of efforts because it constitutes a big flash on the screens of researchers compiling indicators of instability across the universities, think tanks and researchers, INGOs and other new such actors in global security.
There is no knowing what the outcomes would be when added to other sites of rupture such as the continued killings, (Ekiti, Benue, Edo, Plateau, Zamfara, Nasarawa and Kogi last week); rupture in the ruling party where the contest of power between the legacy components and the n-PDP has blown up to near irreconcilable dimension and, of course, the intensified search for a consensus candidate to fight out the election between the incumbent and such an entrant.
Notwithstanding the commotion, the president is soldiering on. How far it would go is not clear but, for now, the president who had nothing to say (or, was he bidding his time?) as very tragic events unfolded between January and March in particular now appears to have found his voice at last. Corruption is the organising concept of his move but he is weaving other claims in the process. Two of them are most interesting. The first one, now most forcefully and more regularly articulated, is his contention that it is those who stole public resources who are organising chaos. By that, he means that the herdsmen involved in the violence across the country are actually 'herdsmen' or organised players by the people he is pointing fingers at. Interestingly, this was not his initial theory. The sequence of his intervention has been silence, armed herdsmen, Gaddafi killers before the new theory. Perhaps, presidents also adjust theories.
The more pointed shots were fired earlier on May 15th, 2018 at the commissioning of the new office complex of the EFCC where he declared that corruption itself overthrew him in 1985. In other words, the masterminds of that coup were on a corruption-inspired mission. Whao! Not quite a few clapped for him even as they wondered why he never began to harp on this until the onset of the campaigns.
Agreeable or not agreeable, alleged corrupt politicians across the country are being hauled into the courts, most of them ending up in jail for at least a week or so. It is a powerful way of imposing a moral censure on the individuals involved because, being arraigned for corruption diminishes anyone, whether he or she is found guilty or not guilty. It must, therefore, have been carefully planned over time to coincide with the onset of campaigns. The initial arrows in the direction of Chief Olusegun Obasanjo, one of the angry godfathers, does not appear to be flying yet. It has only fetched the president a put down by General Obasanjo. But, who knows, there might be more of such disclosures. Some snippets have started circulating in relation to General Abdulsalami Abubakar although that one has not been such a vocal member of the cohort, (the club of four or five retired Generals wielding tremendous power in the country, formally and informally) against the president's second term bid. It could be that a friend to an enemy is an enemy. Meanwhile, not a few are sure that before long, former Vice-President Atiku Abubakar might get his own share of the anti-corruption firing. And so on and so forth!
The contradictions appear to have worked out in a manner that corruption is the issue framing the current intra-class warfare in Nigeria. Pessimists say that could be the eve of anarchy because the conflict parties appear so balanced and victory or defeat could be too costly. Optimists say the warfare is what would trigger or catapult Nigeria into a more qualitative era. Whichever line one follows, it would appear to be that, after four epochal wars against corruption in recent memory, (Murtala/Obasanjo purge in the mid 1970s; the 1983/4 arrest, detention and trial of several politicians of the Second Republic by the 1983-1985 Buhari military regime; the setting up of the EFCC in 2003 and the current phase), thesis and anti-thesis are about to build up into a synthesis although why this heightened dimension is coinciding with the eve of election is something many people are unable to explain or understand.
If it is true that on presidential agency does the future of Nigeria substantially lie, then the bigger problem remains. There is a strong belief here and there that an overwhelming opponent can defeat the incumbent hands down if the election is all a matter of first-past-the-post. But who might be that overwhelming candidate, with capacity for qualitative and nation building governance in an extraordinarily plural Nigeria?
After Ibrahim Dankwambo, the PDP governor of Gombe State, there are hardly any new names emerging yet although one of the angry godfathers might come up with a dark, dark horse. That is a strong possibility. Former Vice-President Atiku Abubakar is right in the race. He has even started appointing the henchmen of his campaign. Until the dark horse is unveiled, each of the two is gathering moss. With the frequency of movements between the Northeast and the South-south nowadays, something would appear to be clicking. Governor Dankwambo might be lucky, not being vulnerable in any way to the anti-corruption shelling because he has immunity till the end of the Buhari regime in May 29, 2019. Should he declared elected, there is no chance of anybody arresting him before midnight of May 2019 and by which time he would have become Mister President and come under a stronger immunity. That is if he has any allegations of corruption against him. Right now, none is known to the public yet. But with what more progressive doctrine of power is he ever associated with? Some people are crediting him with being the designer of the TSA mechanism when he was Accountant-General of the Federation about a decade ago? So, would his be the arrival of a technocrat in power? Is that the presidential agency Nigeria needs today? Only time will tell.
What about the dark horse? Not much is known about him yet beyond that it is a he, not a she. The assumption is that any dark horse coming into the fray must be more formidable than anyone already in the race. Again, only time will tell. Lastly, Atiku Abubakar! He is rated to have the cash and the capacity, although the substance of the capacity has not been interrogated. He has started quoting Lee Kuan Yew, the late Prime Minister of Singapore routinely cited as the ultimate example in compacting an extra-ordinarily diverse city-state as Singapore and transforming it from a 'Third' to a First World. But does Atiku subscribe to Yew's categorical discourse of social transformation in the idea of a fair as opposed to a welfare society? If he says he does, has he got how such a doctrine can be operationalised in Nigeria?
It is not impossible for a swing in choice to occur because of the multiple calculations of the powerful local, regional class and global interests and their agents in the negotiations going on here and there on 2019. Surprises could still occur just as some stars could fade, some to the dynamics at work and others as damaged brands in the anti-corruption warfare. But the strategy of damaging brands could equally be counter-productive because in an angry and acrimonious country like Nigeria of today, one person's damaged brand could be another person's model. And some people could be decisive in electoral outcome, even from jailhouse.
President Paul Kagame of Rwanda is a dictator. That is the sort of thing one hears more frequently about him but he is a dictator who has delivered development to a society that went through genocide. A 43 year old young man has just taken over power in Ethiopia, an ancient African State and, so far, everyone is saying that if he continues the way he is going, Ethiopia would soon be alright. What is he doing right? Educated or informed governance, manifesting in how he dashed to flashpoints of discontent and mellowed hardened hearts! By education, we do not mean PhD but political education. In Nigeria, no one ever comes to power with a self-understanding that proclaims a categorical contention about what the country should be like. All of them come to power talking about development in terms of mega and mini projects without EVER talking about an overarching framework. None! The latest is President Buhari who gave the impression that he was a statist. After three years, it is not clear if the regime has anyone there who has ever heard about the word statism. Might this country have been cursed?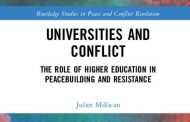 It was one of the questions Intervention tried to deal with very early in its formation. The puzzle is why more conflict and violence in Nigeria at a time there are more universities and think tanks dealing with formal study of peace and peace politics? The question came about following what was clearly a massive expansion in opportunities for formal study of Peace and Conflict in Nigeria, something that was available in scattered forms in International Relations, Sociology, Psychology, Political Science, Geopolitics, Linguistics and Religious Studies.
Whereas by 2003/4, it was just the University of Ibadan programme in Peace and Conflict Studies and the same university's Centre for Peace and Conflict Studies, (CEPACS) as well as Programme on Ethnic and Federal Studies, (PEFS), there were over 20 universities, INGOs, independent think tanks and sundry centres offering one programme or another in Peace Studies by 2016. The correlation should be very clear and if that is not the case, then the question must be posed regarding what might be the intervening variable between the reality of more such centres without corresponding decrease in the quantum of violent intra and inter-group conflicts. Intervention interviewed academics and other stakeholders across the country in a two-part narrative. Each gave his or her own analyses, (See "Nigeria: Why the More Conflict Management Training, the More Conflict, Sept 5 & 6th, 2016/www.intervention.ng).
An expert from the Peace and Conflict programme at Ibadan who assessed the story post publication, however, interrogated the assumption entirely. He said the expansion under reference was overblown because many of the centres and Peace Studies programmes lacked the staff strength and the vibrancy to warrant a claim of lack of correlation between expansion in the number of study centres and decrease in (violent) conflicts. That was 2016. Now, this is 2018 and there is a book trying to account for the relationship between universities and conflict.
It is an interesting book because, for one, it has analysis from across different parts of the world – Middle East, Asia, Europe and Africa. It may not score an 'A' in inclusivity because there is just a chapter from (South) Africa, it is an improvement when compared to other such efforts.
Two, it basically agrees with the notion of universities as conflict managers in their own right because they are theatres of discourses of conflict, discourses which are reproductive of peace as well as conflict, depending on what the discourses are and how students of these discourses operationalise them.
The newness of this research agenda means that most readers would find the introductory chapter and Chapter Three interesting. Chapter Three is where Dr Sansom Milton of the Centre for Conflict and Humanitarian Studies at the Qatar based Doha Institute for graduate Studies reviewed the literature on universities and conflict. Those who are, however, more interested in practical issues might find the case studies chapters (4 – 11) more inviting. The case studies in university – conflict nexus cover some of the hottest conflict spaces or universities concerned with the discipline: Israel/Occupied Territory, Myanmar, Belfast, Bradford, Bosnia and Herzegovina, South Africa.
Edited by Dr Juliet Millican of the University of Brighton in the UK, this book contributes to closing the gap on scarcity of reading materials in a discipline still borrowing heavily from other disciplines and trying to resolve fundamental subject matter issues. Only last month, Professor John Gledhill of the University of Manchester published an article calling for an intellectual insurgency to put peace back into Peace Studies because much of the works in the discipline so far are concentrated on violence/war compared to peace and peacemaking. That could sound strange to students of Peace and Conflict in Nigeria, for example, given the strong distinction between Negative and Positive peace in Peace Studies on campuses across the country. However, Gledhill made his call based on a study he carried out last year with Jonathan Bright at the Oxford Internet Institute, Oxford University in which they described Peace Studies as a 'divided discipline' on the basis that "there is limited exchange between academic studies of war and research on peace". It is possible because the quantum of Peace and Conflict Studies and publications coming out from Nigeria might be so minor of global percentage as for the two scholars to make their claim.
In all cases, this is an interesting time than any other to study and/or practice peace. This is simply because the world is still in the Interregnum: the old order is so discredited and going but the successor order is still nowhere to be seen, leaving not a void as such but an empty space upon which anyone could smartly write anything.
Arusha, the Tanzanian city where the late President Julius Nyerere declared 'Ujamaa', (his cultural Socialism) 51 years ago is again the venue of a possible new declaration about getting the... Read more
Conflict transformation INGO, Search for Common Ground, (SFCG) is unfolding a two day workshop for Civil Society Organisations, (CSOs) in the context of constructing coalitions against human... Read more