Murtala Mohammed and the Culture of the Big Question
Today is the 41st anniversary of the assassination of General Murtala Ramat Mohammed. As usual, it provides an opportunity for individual and collective reflections on the life and times of the late Head of State in relation to Nigeria. It appears that Nigerians would always find it difficult to forget Murtala Mohammed. Murtala Mohammed continues to epitomise military rule in Nigeria. The longer and more distant the event, the sharper the memory becomes, even for those who did not know him. It could be for one, all or more of these reasons:  energised the civil society to a point of pan-Nigerian adulation, set the fantastic example of asking everyone to return his or her loot so as for the society to make a new beginning; made the evergreen pronouncement about Africa having come of age which, to the extent that language is constitutive of reality, is the high point of national liberation politics and the fate of being killed before the Murtala mystique suffered any dent.
The hope is that, henceforth, each anniversary of his death will be used to problematise the man in relation to the nation by posing a big question. One such big question, for example, could be why military rule in Nigeria did not achieve industrialisation for the country. How did it happen that the military could not industrialise Nigeria for all of the 29 out of 57 years that they were in power? It would be 39 years if we add former President Obasanjo's eight years and Buhari's two years, (2015 -17) to it. Adding them that way is permissible because many people agree that they shed the uniform but not the orientation.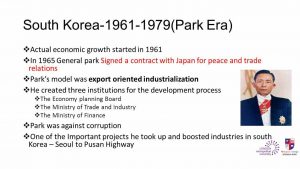 What did the military understand to be the essence of power in the 'Third World' if not industrialisation? Was the Nigerian military not keenly observing its counterparts in power in other parts of the 'Third World' such as Asia and Latin America where military rule was about industrialisation at that time? South Korea and Brazil might be the two best examples to give. When IBB elaborated the case for a Military-Industrial-Complex approach in 1985, was he just saying it or was it that the forces were beyond him. If the forces were beyond his powers as Chief of Army Staff, was that also applicable when he transformed into the military president and was on it for eight years?
Military rule as the fastest way of moving a country from agrarian to industrial economy is almost a consensus in the period before the end of the Cold War. Such societies were asked to give up human rights so as to get development. In Nigeria's case, it gave up human rights but got nothing by way of industrialisation which is what development is reducible to. Industrialisation does not solve all the problems of a society. In fact, it comes with its own problems. But a society which has industrialised has enhanced its capacity to take the kind of problems that are still threatening peace and stability in Nigeria today when Nigeria should, by now, be concerning itself with more serious issues of statehood. Finding out why it didn't happen under the military in Nigeria is, therefore, a key issue in moving Nigeria forward. That is, the military as an institution, not the individual military rulers and not the military of today who have had nothing to do with intervention in politics.
Of course, inquiring into what the military did or did not do with power would naturally take us to why it intervenes to take over government and exercise power directly instead of being a force standing behind the state in obedience to civilian supremacy. There is still no single argument which is taken as a sufficient explanation for why the men on horseback intrude into political power in Nigeria. Suffice it to say that, by 1999 when the military left power, it had lost so much by being in politics and even in respectability in popular estimation. The implication of this is that a very serious issue as industrialisation was not on the table at all, both within the scope of traditional civil-military relations and the politics of disengagement. How did this happen and how might Nigeria re-engage with industrialisation, now that the military has returned to professional duty of securing Nigeria under the doctrine of civilian supremacy?
A country such as Nigeria that is quite far behind in development needs to go beyond sentiments in the memorialisation of her heroes and, instead, use their demise to raise questions. As Ake is fond of reminding this country, it is questions that are needed, much more important than answers.