By Adagbo Onoja
It is not the kind of credit anyone would be happy to claim by saying, I told you the Buhari regime would have problem of direction unless bla, bla, bla. But if there is anyone from a non-partisan perspective who can say 'I told you so' in Nigeria, that person must be Bishop Mathew Hassan Kukah. Early in the day, he had told the media that "even if you are going into a probe, it is not a substitute for governance". When he said so, he irritated most Nigerians if comments on the social media against him are anything to go by.
The consolation was well, this is a friend of the president criticising the president. Kukah must be a friend of the president, if not all along, then after coming out in the past to say that the president was framed, that he never said Muslims should vote for Muslims. That was a major intervention in a country in which a professor of Law in the year 2016 still believes that Buhari is on an agenda of Islamisation of Nigeria.
Against the background of these two examples spread over a fairly long time, the temptation to conclude that Kukah's activism borders on dissidence can no longer be dismissed. But what might dissidence in Bishop Kukah's case refer to in any precise sense? What could be the grid from which it flows? This is a question which can attract a million answers, none of which may be right or wrong. It can only be argued as this piece does that dissidence, when applied to Bishop Kukah simply refers to his manifestations of the "incredulity to meta-narratives" by which the postmodern paradigm is defined.  That is, incredulity to meta-narratives in Nigerian politics in this case. As every narrative prescribes its own world or as discourse is constitutive of power, both his admirers as well as his opponents are confused as to have one question: what does Bishop Kukah want? This is what Daily Trust, for example, did through an editorial opinion, (August 26th, 2015).
This question acquires its own mystique when linked to the inherent tendency of Catholicism to assert itself as in Latin America in particular where it successfully fought entrenched dictators during the Cold War before transforming into Liberation Theology, arguably the greatest contribution of the Church to the struggle for humanism. Could Father, sorry, Bishop Kukah also be the seed of such canvass in Nigeria?
Mohammed Haruna, the ace columnist, runs what can be called regular commentary on Kukah, alleging Kukah's misrepresentation of Islam, his own religion. But no criticism of Kukah by Haruna can be as pointed as the one by Iheanyi Enwerem, a priest of the Catholic Church and a Kukah right hand man. Titled "Mathew Hassan Kukah and His Brand of Politics: Towards Nigeria Finding Its Soul", it was a shattering, insider attack. The piece was published in PMNews, (October 6, 2015).  
But Kukah keeps coming out to be correct on most issues that he goes against the prevailing conception. He must, therefore, be a dissident worth paying more attention to than already being done just in case there might lie in his dissidence the framework for redemption for a deeply distressed society as contemporary Nigeria.
Part of that attention is the decision to reproduce the interview he granted Africa Confidential in 2010. Intervention's check supports the view within the Editorial Board that it is difficult to find anywhere else Kukah has laid out the basics of his dissidence more than that interview. Secondly, even after six years, the interview even speaks to Nigeria more than when it was granted. Third, Kukah turns the heat on those who imagine him to be an unabashed follower of either General Obasanjo or Goodluck Jonathan. In this interview, he told Jonathan what only a critical friend can when he said "Dr Jonathan should expect no sympathy if he doesn't perform". Above everything, it is in this interview he defined the one and only thing any and every president of Nigeria owes the country: Even if Jonathan were just to develop the capacity to frame the issues of where and how to position Nigeria in the next 20 years and framed the questions correctly and got Nigerians to come to a proper understanding of what needs to be done. Just a dry skeleton of what this country might look like. This template would help Nigerians to realise that this is what we are looking for". It is, therefore, a wonderful interview in every sense.
The problem with the interview though is its length. At over 9000 words, that is the length of a typical graduate thesis. But Africa Confidential is too established to begin to edit what anyone is reproducing from it. The only way is to reproduce it in its entirety but in two installments. Other than the original headline, nothing else has been removed. Here we go then!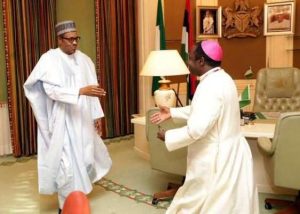 Father Matthew Hassan Kukah is a remarkable Nigerian. A Catholic priest born in Kaduna State in northern Nigeria and fluent in several Nigerian languages, he has worked hard to promote understanding across ethnic and religious fault lines. An idealist in the sense that he wants Nigeria to be a far better country than it is and that he believes its peoples have the capacity to take it there, he is also a brutal realist in his assessments of the country's current political and developmental state.
In demand by governments and civil society as both a mediator and an analyst, Father Kukah has worked with a wide range of Nigerians and foreigners who are trying to address the country's chronic underdevelopment. His disinterest in taking up partisan positions in Nigeria and his drive to bring the country together gives Kukah an important role as both actor in Nigeria's political dramas and spokesman for those Nigerian nationalists who have been trying to push the country forward.
Africa Confidential's Oladipo Salimonu interviewed Father Kukah in London recently about the prospects for political change and economic reform in the run-up to next year's elections:


AFRICA CONFIDENTIAL: Professor Attahiru Jega was recently appointed chairman of the Independent National Election Commission. You were a member of the National Electoral Reform Commission. What do you think the appointment means for the work of that commission?
FATHER MATTHEW HASSAN KUKAH: With Jegga you can only run out of superlatives. He is a fantastic gentleman, a fine scholar, he has paid his dues and served on quite a few committees: President of ASUU, etc. His appointment is a departure from what is expected and evidence of the fact that the president is determined to depart from the bad ways of the past.
Do you think that appointment is going to be enough to change elections in Nigeria?
No, but it is definitely a step in the right direction. He comes from the north and is a Muslim but has great appeal beyond his immediate constituency. His appointment should inspire confidence. The knock-on effect of that is that people will appreciate that the government is serious and that, given Jega's antecedents, he will not brook nonsense and will be clear in what he needs to do. He cannot be considered a captive to any constituency, religion, region, ideological or otherwise. You know where he stands when it comes to issues relating to public behaviour, morality and the minimum standards that the international community has set for Nigerians.
Out of the work of your commission, what are some of the things that he needs to do the best job as chairman? Is he likely to get the support that he needs?
The most important thing is for him to get his hands around the important issues. He is not a bureaucrat. The biggest challenge I think will be overcoming the frustrations of bureaucracy but this has also been taken care of by the fact that our committee recommended that INEC should be free from the encumbrances of bureaucracy. An independently funded INEC that is not held hostage by government forces will be the first victory. The second will be how to navigate an institution that has great appeal to politicians wishing to compromise it. It depends on his commissioners and on the technocrats that he has on the ground and the willingness to move in a different direction. It is impossible for him to accomplish everything in a short period of time. He should acknowledge that the resources are too few and the time too short to organise an election that will really leave an imprint of what his aspirations might be. He must condition Nigerians to expect the best that can be achieved in 2011 but look forward to the 2015 elections.
So you think that the 2011 elections are going to be more of the same rather than a clear departure from the past.
Yes, because the average elected representative in Nigeria simply doesn't take prisoners. No governor expects to be governor for only one term, the same with presidents. The system is such that state executives and office holders don't even hide their conviction that state resources and the apparatus of power can be deployed to achieve that end. It stretches the imagination if you expect the appointment of Jega to have too much of an effect. Perhaps, even more than INEC, the body that needs repositioning will have to be the forum of governors. Beyond the presidential elections, every other election hangs on the governors. The state independent electoral commissions (SIECs), when we traveled around the country, people expressed dissatisfaction with SIECs, saying they were just appointed by governors and only did their bidding. Unless they loosen their hold it will be difficult to have what you would call free and fair elections, even in the best of circumstances.
How much of the report that came out of your commission will be implemented into law?
Even if the president took the entire report and accepted it, the report is not sacred text. Its legitimacy will have to be tested when people vote. There will be aspects of human behaviour that that report will not have been able to predict. But over and above that, it is for the political class to create an environment in which ordinary Nigerians can feel enthusiastic. Part of the problem is that there is a situation in which agents, the politicians themselves, ordinary Nigerians are complicit. Ordinary citizens are not free. The man who is prepared to cheat and not pay his bus fare, cheat in an exam, compromise standards in exchange for money or benefit. None of these characters can have the moral wherewithal to challenge the outcome of INEC. What we are doing in our own various areas of engagement, in the market, the bank, or the church, there is a lot that needs to be done as individuals in the area of personal discipline. We don't imagine that tainted characters who are so in their place of work can arrive at the polling booth and do something different. This is why I've always argued that rather than focusing on the failures of electoral processes, we must see this as a symptom of the greater rot in society. Every day this corruption is manifesting itself but when we talk of corruption our attention has tended to focus on money. We expect INEC to do its job but we must also try to set better standards of conduct and behaviour for ourselves. In the World Cup it isn't a question of what the referee does but how the players choose to conduct themselves. I believe that we ourselves as citizens need to reposition ourselves and think seriously of the role each of us has to play in achieving free and fair elections in Nigeria.
Do you think President Goodluck Jonathan will run in the 2011 elections?
I don't know. And I don't think that the speculation is healthy. I think it's unnecessary distraction and it could end up heating up the system. What you are going to have in the future is that people will start positioning themselves and if you live in Nigeria long enough you will learn to be humble in terms of one's expectation because you don't know who's going to be alive in 2011. I suggest that let's focus on the some of the main issues about delivering on some of the fundamentals that have held our country back and when we get to that bridge we shall be able to cross it.
Do you think he should run?
Jonathan cannot run without severe implications for Nigeria. There are a lot of issues that I think we need to address were he to decide to run. They include the agreement, the zoning provision, which is purely a political issue. He will have to find a way of pacifying other segments of Nigeria within the PDP who are taking that policy as a given with all these structural deficiencies. I also think that we haven't gotten to a point where we can pretend that region, religion, ethnicity and community don't matter; tragically they do matter. We cannot create a vibrant democracy without creating an environment where everybody feels that their voices matter and everybody feels that they are part and parcel of that process. Now, it seems to me to be a lot of work done in that regard and if Jonathan wants to run I don't see why not, as a free citizen of Nigeria. But as president he hasn't really had to face any challenge yet, so the system has not tested him. We don't know what he is made of. Maybe no challenge will come, but, in my view, I think that it depends on what happens in the next few months. If ordinary citizens can see results and if he has the right conversations with the right people and the right segments of this country then I think that the decision to run will be based on what the environment dictates.
What are some of the advantages or disadvantages to his running?
First of all, Jonathan is a member of the PDP. It has its own arrangement. I believe that in the end what we think will not matter. What will matter is who the PDP decides it is going to field. If Jonathan is able to convince sceptics within the PDP that it would be in their interests for him to run. I think that simply because he is there now doesn't necessarily warrant his claim that if he wanted to run he would win elections. The party has to field him first and if it doesn't and he decides he wants to jump to another party, these are very complicated issues. Nigerians will have to choose between Jonathan and a range of other people, if the PDP presents him. If they want to present him that will be their business. But until that happens, ordinary citizens have very little to choose from. You can only choose from the presidential candidates that the parties throw at you.
You mentioned earlier that some other ethnic groups within the PDP might have a say in whether Jonathan runs or not. Which groups are these and what do you think their concerns might be?
For example, if you listen to the Igbo, they believe that if you follow the zoning arrangement, it should be their turn in 2015. As a Nigerian, I think that these sentiments are legitimate. Secondly, there are those on the opposite side, the northern political elite who believe that if you follow through the zoning arrangement you are just completing the late Yar A'dua's tenure, and when that tenure is completed, you (Jonathan) step aside, we will find somebody from among ourselves who is going to complete that tenure. Now, as I said, it depends on how the big boys in the PDP negotiate that. I believe that some of those discussions may be outside the control of Dr Jonathan. So it depends on how the system plays out. Thirdly you have many Nigerians like you and me who really couldn't be bothered where our next president comes from as long as he is competent. Dr Jonathan has not had the opportunity to prove that he is competent. We have nothing to show yet. The honeymoon is still here, policies have not been so clearly articulated. He has a team, whether that team delivers on some of the promises is another matter. I am sure that the promises are not different to those made by Obasanjo or any others made. So in many respects it's not just about good declarations but whether you can mobilise the bureaucracy and other arms of government to support his initiatives. I believe that, if at the end of all this, Nigerians feel convinced that Jonathan is doing a good job they cannot make him president unless the PDP presents him as a candidate. So that's why I'm saying most of the conversation will depend on how the party wants to deal with the issue.
Within the leadership of the party, who do you think are the key decision makers on whether or not it's going to be Jonathan who is fielded in 2011?
There is a board of trustees and many people argue that General Obasanjo who is not very popular among a lot of people from the north. But also the interesting thing with Obasanjo is that a lot of people feel strongly about him, a lot of people feel strongly against him. But either way, the truth is that he is definitely strategically placed since Goodluck is a product of his own decision. I believe that unless something happens to that relationship we will have to rely on Obasanjo to convince the board of trustees. Key will be people like Dr Alex Ekwueme, an important voice and an Igbo man; Dr Solomon Lar, the first chairman of the PDP; people like Adamu Ciroma, who is also a very strong voice in the North. From the point of view of the Governor Lamido of Jigawa State, Governor Babangida Aliyu of Niger state and Governor Murtala Nyako of Adamawa State, there are a number of governors that you really need to have in your camp and some very key political allies outside the PDP, whose voices matter. They include traditional rulers, they include retired military officers…There are many very important stakeholders in the process.
Obasanjo has denied that there is an unwritten agreement to rotate power within the PDP.
I think the important thing is that it is not about reneging when things seem to be convenient. We need to have the sincerity and in my view, the way the country stands now, almost everything has been based on zoning. That is why the PDP insist that the Igbos will lose chairman of the party. It's on the basis of that understanding that ministers and their portfolios, a lot has been done to reflect those realities. It is within the context of that spirit…after all Dr. Goodluck Jonathan could have chosen an Igbo man to be his vice-President or a Yoruba man to be Vice- President…let's not get carried away by the sentiment and the expediencies of the moment. I think this is not a conversation that we should be having so early in the day. I think that we must allow the political forces, the cultural forces within the system to play themselves out. But clearly, a lot of people need to be convinced, including many Nigerians. What is popular in the media does not necessarily equal political expediency, so definitely we cannot run Nigeria without serious considerations about a sense of fairness and justice. It may be convenient to say that zoning was only a temporary arrangement but let's not forget that if Goodluck ran for the elections, he won't be president forever, this thing could turn any way. What if it comes back to the north and the north decides it doesn't want to share power with anybody? So I think we need to think through the issues more dispassionately rather than just throwing stones. I fear that we could end up polarising the country, and we don't need any of that.
Do you think that zoning and rotational arrangements are the best way forward for Nigeria? You have referred to the community you come from as a minor minority, when would you say the PDP chairmanship be zoned to them?
There's a difference between being in office and being in power. Some of these offices are fairly symbolic. If they meant so much northern Nigeria would not be the poorest part of Nigeria; because northerners have been in power for over 30 years, literally nonstop. But the north is still the poorest part of Nigeria. I do not believe that because Dr. Jonathan is president therefore every Ijaw man necessarily will become a rich Nigerian. There will still be poor Ijaw people, jobless Ijaw people, even if Dr. Jonathan were president for 10 years. Beyond the symbolic gestures, the important thing is the sense of calming frayed nerves. When you look at a country like Germany in the World Cup and you see a black man playing for Germany, it does something to you. So, for me, a lot of these things have symbolic value. And, let's be clear, we are still negotiating, we are still moving on that road. We haven't gotten there yet and it is going to take us a while before we can say that these things don't matter. But we see, even in certain democracies, like America, where we always pretended that these things don't matter, without Obama being president there wouldn't have been the Tea Party. There are quite a few white people that still cannot live with the fact that a black man is president. But this is a country that has for the last 200 years been experimenting with what we are just trying to experiment with. But let us be fair to ourselves, not every country has over 400 ethnic groups. The reason why identity matters in African politics is because schools, hospitals, roads need to be built, people need to make state money, employment needs to be provided. Sadly, because we are still unable to design the architecture that can create a sense of belonging and a sense of wholeness, is why every public official is like a big village chief; his responsibility is to his community. Although this is slowing down our march towards modernization, you must appreciate the fact that there are limitations from neutralizing identity. This can only happen when some quantum of modernization has taken place. I mean, here, there is no way that you can try to run for office by telling anyone in the UK that you are going to build schools and improve the health service, you might talk about improvements but you are not going to say that because you are from Bradford, you are going to become Prime Minister by saying what you are going to do for the people of Bradford, it doesn't work like that. Based on where we are we need to inch our way and you must appreciate the fact that true leadership will have to emerge before people can look at themselves in the mirror and appreciate the fact that there goes my leader. For now, the unfortunate thing is that that is a reality we have to live with. In a complex society such as ours we need something that creates a sense of belonging for people. In flashes of frustration Nigerians got so fed up with the military that when Abiola ran along with Kingibe—two Muslims—Nigerians couldn't be bothered. It didn't mean that the problems of religion had ended, it just meant that Nigerians had become so fed up with the military that they could have put out anybody. Which is why Abacha was clever. When he came to power, he didn't allow even a dog or a goat to run along with him because he knew that the way Nigerians were feeling, even a dog running against someone in a military uniform might win the election. Take the two together, you cannot say that these things don't matter, we must also be realistic, that we have a complex mosaic and it is important because this test, its resiliency will depend on a feeling by everybody that they are adequately reflected.
Moving away from politics to issues of citizenship, what do you think are some of the issues of minority groups in Nigeria. Nigeria is often described as a country of three major tribes. What are some of the grievances of some of the minority groups in Nigeria that are not being addressed?
There are issues related to a sense of belonging. If you look at the so-called minorities, you are looking at an imprecise concept, because the thing about ethnicity is that it doesn't make much sense. There are a lot of Igbos who don't speak Igbo, a lot of Yorubas who don't speak Yoruba, a lot of Yorubas who speak better Igbo than Igbos themselves. A lot of people who make a claim to a particular ethnic identity, but they don't speak the language. So there's a sense in which most of the conversation is an exercise in hostage-taking. But in reality if you look at under the military, at an individual level, some of the richest Nigerians today, especially among retired military officers actually are from minority groups. Sadly, their wealth has not spread around because it is all individualistic and sometimes not obtained in the proper way. But to the extent that a lot of communities feel…because under the military there was a lot of abuse…local governments were created…those who were members of the provisional ruling council took local government headquarters to their villages and projects of government were diverted to those communities. And so, psychologically, people began to feel, we don't have a voice because we don't have somebody in power, and we don't have somebody in power because we are a minority. So gradually people began to get low self-esteem, but, my argument is that if you massively create infrastructure and increase movement and make electricity work, this is how you can blunt the cutting edge of ethnicity and minorities. The word has become an explanation for a feeling of what Nigerians call marginalisation and the sad thing is that once you use ethnicity as a means of defining that concept you will never escape it. I think it is just another part of the vocabulary of bad governance which has been seen throughout Africa.
In one sense that would mean that we need to lessen the conversation about ethnicity.
How do you align that with the previous point, when politics is based on an architecture of ethnicity and rotation along ethnic lines?
I consider where we are now as a state of evolution. We have denied ourselves the energies of our people. Nobody believed six months ago, that anybody from the Niger Delta or from the Ijaw ethnic group would produce a president, it was inconceivable. Vice-president is, as they say in Nigeria, a spare tire. It was assumed that Goodluck Jonathan would warm the seat until things change. When we spoke about the Ijaw you spoke about militants and kidnapping, bunkering, the destruction of the environment. This was it. It was the part of Nigeria that exemplified all that was wrong with Nigeria. Suddenly we now have a president who is from the Niger Delta. The point is, the way these things go, that somebody can come from that background to be president could also serve as a signal to other people that you know what, perhaps we are in this game too. You take a state like Kaduna which has benefited in a collateral sense from this. Our governor moves from Kaduna to become vice-president and Kaduna state has a governor who is a Christian, something that never really happened. The northern ruling class had always treated Kaduna as some sort of sacred Jerusalem that could not be desecrated. Suddenly, this has come without anybody raising a hand or casting a vote, in a sense that God designed his own ballot box and paper and there we are! So for me, and I don't want to sound too esoteric, but a lot of things are happening in Nigeria, and the more these things happen, the more everybody begins to feel that there is a hopeful future for us. The idea of rotation and zoning may have served its purposes, but it is still very useful. But while we are on that road, let us know that the greatest antidote to this concept is development. People clutch ethnicity because they have nothing else.
At the swearing-in of President Jonathan you said that something had happened in Nigeria that might not happen again for 200 years. What did you mean by this?
I just meant that it was unprecedented. An individual becoming deputy governor, becoming governor, becoming vice-president, becoming acting president and now president all within a period of less than six years, paying no penny and nobody casting a vote for him, this has never happened anywhere. It was not a statement about Goodluck himself but more an expression that God is saying something to us in Nigeria; namely that those who have often thought that you cannot be governor or president unless you have a godfather or tons of money or have stolen money, which has driven Nigerian politicians to accumulation. Corruption is not a necessity for power. If we became more humble and more circumspect and appreciated that power is not something you can pray for or capture at all costs. Being such a religious people we should appreciate that power comes from God and God speaks to us through ordinary people. Then we can become a bit more relaxed and if I go out there to contest an election and lose, it is not the end of the world and we can stop seeing politics as a zero-sum game.