Foremost Nigerian business magnate and politician, Chief M K O Abiola is physically dead but his case for reparations to Africa for her own 'centuries of humiliation' in history has bounced back to centre stage in global politics. Although prompted into currency by seemingly unconnected supreme sacrifice of African-American, George Floyd in the hands of racist police operatives last May in the US, it is still the same reparations Chief Abiola was the boldest agitator during his time.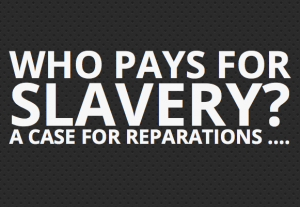 As divergent as the perspectives on the concept of reparations over the years, it remains the key idea of compensation for the human, material and cultural wealth looted from the African continent between the 16th and 20th century and as currently operationalised through all the models of "accumulation by dispossession" such as the Structural Adjustment Programme, (SAP), Poverty Reduction Strategy Papers, etc.
A flurry of activities have brought reparations to the centre of global politics beyond anyone's imagination. So far, the EU Parliament voted last weekend in support of a resolution to recognise slave trade as a "crime against humanity" and make December 2nd the "European Day to commemorate the Abolition of the Slave Trade". 493 members of the parliament voted in support of the resolution as against 104 who took the opposite position, (https://www.politico.eu/article/european-parliament-adopts-call-to-recognise-slave-trade-as-a-crime-against-humanity/)
The Conversation Online also shows that big time insurance broker, Lloyd's of London as well as Greene King, all of them British companies, have not only apologised for what they are calling "inexcusable" actions and "indefensible wrongdoing" but promised to make payments to black and minority ethnic groups in atonement for their past owners' involvement in the transatlantic slave trade. These are besides what is coming from Michelle Bachelet, the UN High Commissioner for Human Rights, for example, who has called on countries to confront their past involvement in colonialism and slavery to make reparations for those still affected. It also follows the University of Glasgow's announcement last year of a £20 million fund to make amends for benefiting from the transatlantic slave trade.
The EU Parliament's intervention has been the most symbolic so far in the current round of global debate provoked by last week apologies and punishment for rank slave dealers by the Bank as well as the Church of England, (https://intervention.ng/20678/).
It positions it as being the "first international institution to proclaim … that the transatlantic trade and slavery are a 'crime against humanity.'" "In this moment of international indignation against the racist murder of George Floyd … of the collective denunciation of continuous stigmatizations, of permanent discrimination against non-white people … we must be brave enough to take action", said the leftist parliamentarian credited with making the vote happen. A Greens voice has also been heard from Alice Bah Kuhnke who is saying the vote would show that "progressive forces, across party borders in the EP, stand firm in our call to end racism and discrimination in the US and in the EU, and to condemn police violence and attacks on journalists who are documenting the protests". The parliamentarians who rooted for the resolution also went as far as calling the on-going worldwide protests as heading "to the recollection of Europe's colonial past and its role in the transatlantic slave trade." It also recommended the introduction of the "history of black people and people of color" into school curricula and holding a "European Anti-Racism Summit on combating structural discrimination in Europe."
Writing in The Conversation, (https://theconversation.com/slavery-reparations-theres-little-legal-basis-to-make-companies-pay-for-historic-actions-141081), Dr. Luke Moffett, a Law lecturer at Queen's University in Belfast pointed out how "Reparations for slavery have been demanded for centuries for African American, British Caribbean and Caribbean peoples. And how, the UN Durban World Conference against Racism recommended reparations for racism in 2001 but how the momentum was overtaken by 9/11 and the war on terror. Since then, according to him, research has uncovered numerous individuals and companies that have benefited from slavery in the past. Besides Greene King and Lloyd's of London, the UK banks HSBC, Barclays and Royal Bank of Scotland are all known to have had similar links. In the US the list has included JP Morgan, Bank of America and the clothing retailer Brooks Brothers. These are all his words, including his point that none have paid reparations, "although, for example, JP Morgan set up a scholarship fund and apologised for the involvement of its predecessor companies in slavery in 2005"
Although, according to the academic, no legal case has succeeded yet, hence the instructive title of his piece, "Slavery reparations: there's little legal basis to make companies pay for historic actions", he, however, noted how there have been increasing reparations paid by corporations for their involvement for what he called historic violations such as the Holocaust.
In other words, it is difficult to know the dimensions this current phase could assume in the days, weeks, months and even years ahead, particularly in the context of the emerging consensus that reparations is "long o-v-e-r-d-u-e". The tragedy some critics observe about the current round is that it is not originating from anywhere in Africa, its parliamentarians, media, universities, civil society, think tanks or political leaders. Rather, it is still the children of slave merchants and colonial administrators insisting on punishing their ancestors for what their education tells them is a grave violation of global justice and ethics. This is regarded as a paradox worth reflecting upon and the basis for bringing up a name of a reparations activist such as Chief MKO Abiola.
Once again, evidence is showing that relying on pre-coded categories for achieving a political goal is wrong headed activism. Nobody would have counted George Floyd as a likely revolutionary figure before the contingent interpretation of his murder as a case of historical antagonism and then the #BlackLivesMatter revolution that followed. Similarly, no one would have counted a businessman with ITT background such as the late Chief Abiola as a leading voice for a reparations claim now assuming global consensus. At the time he was in the thick of that campaign, it was very risky. Domestic junta politics might have directly led to his demise, it has been argued that those who see beyond what meets the eye can also see that a price for that advocacy may not be far behind. The return of his spirit to haunt them all may not be such a theological point of departure!