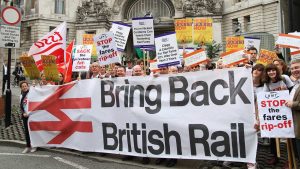 The privatisation of the rails in the UK is manifesting an interesting paradox: it has all but been taken over by rail companies which are state-owned enterprises of the countries of origin. This is what the UK newspaper, The Independent has shown in a story in which the rail enterprises virtually in charge are listed along with the countries of origin. The story originally titled "Trains on UK Railways Now Almost Entirely State-Owned – By Foreign Countries" carried this rider: Extensive state-ownership exists among UK rail operators. It just doesn't involve the British State". The paper then listed the companies as follows:
C2C: Italian State; Chiltern: German State; Caledonian sleeper: PRIVATE; CrossCountry: German State; East Midlands: Dutch State; Eurostar: French State; Gatwick Express: French State; Grand Central: German State; Great Northern: French State; GWR: PRIVATE; Greater Anglia: Dutch State; Heathrow Express: PRIVATE; Hull Trains: PRIVATE; LNER: British State; London Northwestern Railway: Dutch State; London Overground: German State.
Others are London Underground: British State; Merseyrail: Dutch State; Northern: German State; Northern Ireland Railways: British State; Scotrail: Dutch State; South Western Railway: Hong Kong State; Southeastern: French State; Southern: French State; Stansted Express: Dutch State; TfL rail: Hong Kong State; Thameslink: French State; TransPennine Express: PRIVATE; Transport for Wales: French State; West Coast: Italian State; and West Midlands Railway: Dutch State.
The paper is subsequently pointing out how the debate on renationalizing the railways is rearing its head as previously tabled by the labour party, what "with rail fares set to rise again by as much as 2.8 per cent" and the Trades Union Congress, (TUC) renewing call for renationalisation, as a way of lowering ticket prices.
"We're already paying the highest ticket prices in Europe to travel on overcrowded and understaffed trains," the paper quotes Frances O'Grady, TUC's general secretary as saying and kicking against a situation in which passengers are "subsidising private train companies".
It is one news item that is bound to reverberate in faraway places where neoliberalism has either been disallowed in favour of state interventionism or where it has been a disaster. China and Nigeria are good examples respectively. In the case of Nigeria, for instance, both the rail and the air transport system have virtually been in coma, the rail being the worse for it as victims of what Marxist geographer, David Harvey has called "accumulation by dispossession".
This contrasts with the situation in the UK where, according to The Independent, a significant proportion of the railways are under state control, with Network Rail in charge of around 75 per cent of the industry, including the tracks, thousands of stations and signaling operations. In Nigeria, no capitalists have advanced to be recognised as buyers and the fear is whether they can make a success of it where virtually none of the State-Owned Enterprises, (SOE) that have been privatised since the late 1980s have been a success story. Rail is more complex in terms of the technology and the finances required even as it is the most strategic of public transport in an unformed economy such as Nigeria.
So, while the debate in Britain, for instance, would be about returning control of over 20 operators of franchised passenger services to the British State, the debate in Nigeria would be about which fraction of the ruling class has sufficient modernist outlook with a clear role for the rail system. In other words, the case in Britain is that of a paradox of capitalism while in Nigeria, it is a case of a non-starter. In both, it is crisis management failure, fueled by misbehaving power elite in each of the two countries. The interesting question at the end of the day is how come rail enterprises owned by other nation states can run the British rail system but not the British State owning a rail enterprise that can run the British rail system. Economists can be heard whispering 'profit motive at work'.
While no one dare mention re-nationalisation in Nigeria, The Independent is predicting unlikelihood of the calls for UK state ownership of rail companies to die down soon. It bases its optimism on expected rail price rises and large amounts of planned disruptive infrastructure upgrade work also costing the taxpayer billions. Britain, an older democracy, has the advantage of two established political parties in ideological terms. That is just not the case in Nigeria.