It is a puzzle this story is still circulating. Another wave of it has hit Whatsapp chat platforms. But it is actually a much celebrated 2018 story when 100 of the Sixth form students of Brampton Manor Academy School in East London obtained straight  A* to A. The implication is that they gained admissions to top Russell Group Universities. That is universities in that club such as Oxford, Cambridge, London School of Economics, Imperial College, University College London, Kings College, St. Andrews, Warwick and Bristol and many more.
The fact that Dr. Dayo Olukoshi Biodun, the principal, is not just an African but a Nigerian has almost been over celebrated even in the (British) media. The BBC, The Sun, Metro, The Guardian, The Telegraph as well as CNN and Huffington Post, not to talk of several papers owned by Africans in the UK. There have been several features on the principal in question in some Nigerian newspapers as late as March 2019. Just as the world appeared to have noticed and moved on, another wave of it is on.
Is it possible all the four different chat groups it has been cited in the current wave never saw it before? Is it possible it is a cool reaction to the advertisement by a Chinese company in which a detergent was invested with power of cleaning up an African and remaking him in the image of a Chinese, crossing the red line of cultural misrepresentation of that sort from that quarter? Could this be a defiant statement that Nigeria will make it in spite of all odds it is currently experiencing?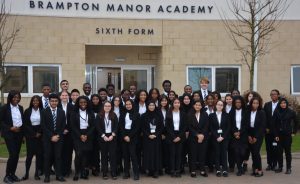 Perhaps, this story is circulating again to show that just as racism is mounting, so also is inclusivity or more sensitive response to difference. That is to suggest that some societies or some countries are managing difference better than others.
Of course, it could be that the current wave is a vote for or recognition for merit. That is, even as merit is dangerous in some places, it is highly revered in some other places.
Might the story be back in circulation mainly to ridicule those who parrot the greatness of private schools at the expense of public schools in a country such as Nigeria?
It is not impossible that the social media is why. Doubtful as it is that those inaugurating the current wave never saw it till now, it cannot be ruled out. But how could that happen even when some of them live in the UK?
Questions! Questions and questions!  but very interesting questions that, collectively, point to the immensely diffuse and unpredictable nature of the contemporary world. It is very unlikely the Chinese company that produced the ads under reference would have imagined that an African far away in London was superintending the production of brains admissible in some of the most established universities in the world. This is just as it would be difficult to imagine that someone from Nigeria where the cry against the demise of education is heard every day is at the head of a school packaging 'A' class materials somewhere else in the world.
Unless someone conducts a study on this question, it may never be clarified why this story doesn't want to die. It could be for one of the reasons speculated above or all of them or even something completely different, depending on which part of the world one is talking to on it.