No less than 34 souls have now perished in the crash yesterday morning involving a number of vehicles at Ojantele near Adoka in Benue State of Nigeria on their way to what would have been the first major electioneering outing by any party in Benue State for the 2019 elections. The campaign had been scheduled to take place at Agatu where Abba Moro of the People's Democratic Party, (PDP) would have flagged his campaign for Zone C Senatorial District. The campaign was subsequently postponed as top PDP attendees such as Governor Samuel Ortom and David Mark turned back at Adoka. It was in deference to the victims.
Intervention gathered that the accident involved one of the buses from two of the nine LGAs in the Senatorial district heading for the campaign rally but colliding with a Sienna carrying people heading for a burial but which was dodging a motorcyclist. In the end, it involved several vehicles. Several survivors have been taken to the hospital, it was also learnt.
The campaign has been put off indefinitely in a state where electioneering has not really started on any serious scale yet. The reasons for the campaigns not having started are not clear. This is the rally where the PDP might have defined its agenda for Benue State given that Ortom, the governorship candidate of the party was attending. Although he has been in power for four years now, he did that under the APC. Now that he is out of APC, he would have to define his new agenda.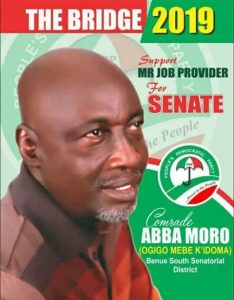 Additionally, the rally would have indicated the balance of forces between the PDP candidate and his APC counterpart in the Senatorial district. That is Abba Moro, the Minister for Interior under Goodluck Jonathan versus Chief Steven Lawani, business magnate and former Deputy-Governor of Benue State from 2007 to 2015 respectively. So far, Lawani is not on the move yet, most likely to be still putting final touches to his plans in his political laboratory before fanning out. It promises to be a big fight for power in the state in the 2019 election.
But, in a dramatic turn of events, Gov Ortom is posting a positive narrative of Senator George Akume with whom he crossed bitter words not long ago. Speaking at Akume's 64th birthday in Makurdi yesterday, Ortom called Akume an asset not just to Benue State but to the Middle Belt. It is surprising that Ortom is not only now positive about Akume but also said what even Akume's harshest critics will not dispute. For, no one disagrees that Akume is very liberal, empowers people without breathing down on their neck and is generous. The benefit of hindsight has given him the record of being the last governor to carry out employment of staff in the state. The Benue Polytechnic was cited to Intervention as where this claim is most exemplified. The 'Akume thank you' slogan popular across Benue is now being interpreted to be a social commentary confirming the former governor's empowering spirit rather than a caricature.
So, the question is why Gov Ortom is the one revealing what many might call the true Akume at this time. Pundits are offering three guesses: One is the the power of truth to force itself out at such occasions. The second guess is the politics of Ortom's re-election and what role he might think Akume could play in it although Akume is in APC which has its own governorship candidate. The third guess is what an observer calls a wind of peace he claims to be blowing in Benue politics. The analysis is that the power elite might have realised that endless skirmishes is counter productive. The observer cites the recent peace move by Senator David Mark as a case in point. Instructively, Akume himself asked whoever he might have wronged to forgive him while assuring he had forgiven whoever wronged him. He was particularly grateful to providence that he lived up to 64, something which his predecessors in leadership such as Joseph Tarka and the first elected governor of the state did not get.
As is the case with social actions, so also is it still difficult to be categorical about what is moving Benue politicians towards peacemaking and how sustainable it would be. That majority of the elite were there makes this significant but, again, only time would tell!