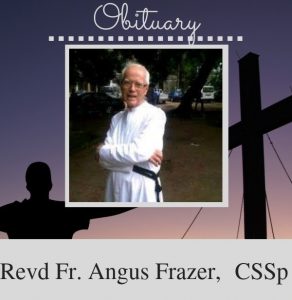 Reverend Father Angus Fraser who, for four uninterrupted decades, ran Mount Saint Gabriel's Secondary School, Makurdi, Benue State as one of the best secondary schools in the area is to be buried in the school compound at last. His burial place has been the subject of some tussle. In an email response now circulating freely in the social media, a relation of his in the UK made reference to Fraser's preference to be buried in Garkwaa, near Shemdam in Plateau State where she said Fraser found happiness in his new assignment after leaving headship of Via Christ Society as well as Principal of Mount Saint Gabriel's in 2014 in controversial circumstances. Contrary to what is regular in the Catholic Church, Fraser left the headship of the Order he founded, the Via Christ Society. According to the relation, that preference for Garkwaa is what Fraser told the family during a Sept. visit when the family did not think he would die soon after. Born in 1931, Fraser was 87 at death.
Now, Rome has granted the Via Christi Society to bury Fraser at the Mount Saint Gabriel Compound in Makurdi but the decision came after a lot of contestation. While the family would have liked to see him buried with his birth family in St. Vincent & the Grenadines where he actually hails from, The Provincial Leadership Team wished him buried in London and later in Aliade where the Holy Ghost Fathers have a Congregation. Aliade is about an hour drive southward from Makurdi, the Benue State capital.
Fr. Fraser's body is scheduled to arrive the Abuja International Airport from the UK on November 28th, 2018 for an onward journey back to Makurdi. This would be followed by the Christian wake on Sunday, December 9th, 2018 at 5pm while the funeral mass will be on Monday, December 10th, 2018 at 10:00 am at the Cathedral of our Lady of Perpetual Help, Makurdi.
The Makurdi Diocese of the Via Christi Society has also formally announced his death. The announcement is coming more than a month after his death on October 7th, 2018 in the United Kingdom, suggesting the tussle over where he is to be buried.
"In the name of all the members of the Via Christi Society, Makurdi Diocese and on behalf of the Spiritan Family, I announce the passing into eternal glory of our dear and venerable founder Very Rev. Fr. Angus Fraser CSSp on October 7th 2018 (Feast of the Holy Rosary) at Princess Royal Hospital, Farnborough, United Kingdom", was the categorical part of a statement to that effect by Very Rev. Fr. Theophilus Hwande, the Superior-General.
It brings to a close a major chapter in the life of that school as well as that of 13 or so similar schools in the old Benue province with which the Catholic Church can claim credit for access to education by majority of the elite from the defunct province today. Among these schools are St Francis College, Otukpo, Mount Saint Michael's, Aliade, Holy Rosary College, Adoka, Mount Saint Gabriel's, Makurdi. A second set includes St John's Secondary School, Amoke; St John Bosco, Lafia, Emmanuel Secondary School, Ugbokolo, St. Anne's Secondary School, Otukpo and very lately, Fatima Girls Secondary School, Okpoga.
In the case of Angus Fraser, he ran Mount Saint Gabriel's Secondary School, Makurdi from 1971 to 2014, a period of over four decades during which many young boys found in him a most powerful influence on their formative period. He is known for calling students 'Little Angels', gave students Vitamin C in the night, knew every student by name, from Dr. Iyorchia Ayu to Tu Face Idibia, etc) protectively exposed those stubborn enough to be befriending girls from the sister school, Mount Camel's Secondary School, Makurdi whose foundation he inspired to expand the space for girls.
The Via Christi Society, a congregation of the society of apostolic life that he founded has upwards of sixty-five priests and seventy seminarians said to be at various stages of formation for the priesthood. This congregation is also said to be present and working in the USA, the Caribbean, Makurdi Diocese, Katsina Ala Diocese, Lafia Diocese, Abuja archdiocese, the Military chaplaincy and other places across the world.
Having taken a vow of poverty and chastity and feeding on nothing more elaborate than vegetable and beans or such stuff, all his salaries went to caring for those that development left behind, particularly HIV/AIDS victims – their medicine and foods. His austere life and personal touch across the board made him the legend he has become among Old Boys Association of the school whom Intervention learnt bought him a car a few days before he died.
The late Fraser held the national award of Member of the Federal Republic (MFR). At some point, ThisDay newspaper published in Nigeria also honoured him.